About Us
Diamond Kebab & Pizza is a Kebabs takeaway in Bristol. Why don't you try our Lamb Donner & Chicken Shish Kebab or 2's Special?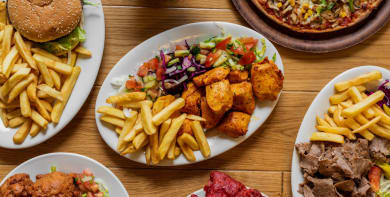 Reviews
126 reviews
Charlie
"Kebab was a little bland with not much variation in salad. Only lettuce and onion with half a tomato. Overall, a decent meal but a little bland."
18/03/2020
Lee
"No complaints, the food was delivered early, it was hot, well presented and tasted delicious. Would order again"
18/02/2020
Steve
"Food was very nice. Big portions! Will be eating here again"
13/02/2020
Menu
Quarter Pounder Burger Regular
£4.25
Quarter Pounder Burger With Cheese
£4.35
Half Pounder Burger Regular
£5.55
Half Pounder Burger With Cheese
£5.65
Margherita Pizza 10" Medium
Cheese & tomato
£9.99
Margherita Pizza 12" Large
Cheese & tomato
£12.99
Margherita Pizza 15" Super
Cheese & tomato
£13.99
Farmhouse Pizza 10" Medium
Turkey ham & mushroom
£10.99
Farmhouse Pizza 12" Large
Turkey ham & mushroom
£14.99
Farmhouse Pizza 15" Super
Turkey ham & mushroom
£16.99
Hawaiian Pizza 10" Medium
Turkey ham & pineapple
£10.99
Hawaiian Pizza 12" Large
Turkey ham & pineapple
£14.99
Hawaiian Pizza 15" Super
Turkey ham & pineapple
£16.99
Pepperoni Feast Pizza 10" Medium
Extra pepperoni & extra mozzarella cheese
£12.99
Pepperoni Feast Pizza 12" Large
Extra pepperoni & extra mozzarella cheese
£14.99
Pepperoni Feast Pizza 15" Super
Extra pepperoni & extra mozzarella cheese
£17.99
Pepperoni Plus Pizza 10" Medium
Double pepperoni, mushroom & onion
£12.99
Pepperoni Plus Pizza 12" Large
Double pepperoni, mushroom & onion
£14.99
Pepperoni Plus Pizza 15" Super
Double pepperoni, mushroom & onion
£17.99
Chicken Feast Pizza 10" Medium
Chicken, sweetcorn & mushroom
£12.99
Chicken Feast Pizza 12" Large
Chicken, sweetcorn & mushroom
£14.99
Chicken Feast Pizza 15" Super
Chicken, sweetcorn & mushroom
£17.99
Tuna Delight Pizza 10" Medium
Tuna, sweetcorn & onion
£12.99
Tuna Delight Pizza 12" Large
Tuna, sweetcorn & onion
£14.99
Tuna Delight Pizza 15" Super
Tuna, sweetcorn & onion
£17.99
Hot & Spicy Pizza 10" Medium
Ground beef, onion, green & red peppers & jalapeno peppers
£12.99
Hot & Spicy Pizza 12" Large
Ground beef, onion, green & red peppers & jalapeno peppers
£14.99
Hot & Spicy Pizza 15" Super
Ground beef, onion, green & red peppers & jalapeno peppers
£17.99
Mexican Hot Pizza 10" Medium
Pepperoni, onion, green & red peppers & jalapeno peppers
£12.99
Mexican Hot Pizza 12" Large
Pepperoni, onion, green & red peppers & jalapeno peppers
£14.99
Mexican Hot Pizza 15" Super
Pepperoni, onion, green & red peppers & jalapeno peppers
£17.99
BBQ Original Pizza 10" Medium
BBQ base, chicken, onion, green & red peppers
£12.99
BBQ Original Pizza 12" Large
BBQ base, chicken, onion, green & red peppers
£14.99
BBQ Original Pizza 15" Super
BBQ base, chicken, onion, green & red peppers
£17.99
New Yorker Pizza 10" Medium
Pepperoni, turkey ham & mushroom
£12.99
New Yorker Pizza 12" Large
Pepperoni, turkey ham & mushroom
£14.99
New Yorker Pizza 15" Super
Pepperoni, turkey ham & mushroom
£17.99
Donner Pizza 10" Medium
Donner meat, onion, mushrooms, green & red peppers
£12.99
Donner Pizza 12" Large
Donner meat, onion, mushrooms, green & red peppers
£14.99
Donner Pizza 15" Super
Donner meat, onion, mushrooms, green & red peppers
£17.99
Chicken Deluxe Pizza 10" Medium
Chicken, onion, mushroom, green & red peppers & sweetcorn
£12.99
Chicken Deluxe Pizza 12" Large
Chicken, onion, mushroom, green & red peppers & sweetcorn
£14.99
Chicken Deluxe Pizza 15" Super
Chicken, onion, mushroom, green & red peppers & sweetcorn
£17.99
Meaty Treat Pizza 10" Medium
Spicy beef, pepperoni, onion & fresh tomato
£12.99
Meaty Treat Pizza 12" Large
Spicy beef, pepperoni, onion & fresh tomato
£14.99
Meaty Treat Pizza 15" Super
Spicy beef, pepperoni, onion & fresh tomato
£17.99
Chicken Hot Pizza 10" Medium
Spicy chicken, jalapeno peppers, fresh tomato & mushroom
£12.99
Chicken Hot Pizza 12" Large
Spicy chicken, jalapeno peppers, fresh tomato & mushroom
£14.99
Chicken Hot Pizza 15" Super
Spicy chicken, jalapeno peppers, fresh tomato & mushroom
£17.99
Chicken Supreme Pizza 10" Medium
Spicy chicken, onion, mushrooms & jalapeno peppers
£12.99
Chicken Supreme Pizza 12" Large
Spicy chicken, onion, mushrooms & jalapeno peppers
£14.99
Chicken Supreme Pizza 15" Super
Spicy chicken, onion, mushrooms & jalapeno peppers
£17.99
Vegetarian Supreme Pizza 10" Medium
Onion, mushroom, sweetcorn, green & red peppers & fresh tomato
£12.99
Vegetarian Supreme Pizza 12" Large
Onion, mushroom, sweetcorn, green & red peppers & fresh tomato
£14.99
Vegetarian Supreme Pizza 15" Super
Onion, mushroom, sweetcorn, green & red peppers & fresh tomato
£17.99
Vegetarian Hot Pizza 10" Medium
Onion, green & red peppers, fresh tomato, jalapeno peppers & mushrooms
£12.99
Vegetarian Hot Pizza 12" Large
Onion, green & red peppers, fresh tomato, jalapeno peppers & mushrooms
£14.99
Vegetarian Hot Pizza 15" Super
Onion, green & red peppers, fresh tomato, jalapeno peppers & mushrooms
£17.99
Chicken Sizzler Pizza 10" Medium
Spicy chicken, onion, green & red peppers & jalapeno peppers
£13.99
Chicken Sizzler Pizza 12" Large
Spicy chicken, onion, green & red peppers & jalapeno peppers
£16.99
Chicken Sizzler Pizza 15" Super
Spicy chicken, onion, green & red peppers & jalapeno peppers
£18.99
Mexican Passion Pizza 10" Medium
Spicy chicken, green & red peppers, jalapeno & pineapple
£13.99
Mexican Passion Pizza 12" Large
Spicy chicken, green & red peppers, jalapeno & pineapple
£16.99
Mexican Passion Pizza 15" Super
Spicy chicken, green & red peppers, jalapeno & pineapple
£18.99
Meaty BBQ Pizza 10" Medium
BBQ base, chicken, pepperoni, green & red peppers
£13.99
Meaty BBQ Pizza 12" Large
BBQ base, chicken, pepperoni, green & red peppers
£16.99
Meaty BBQ Pizza 15" Super
BBQ base, chicken, pepperoni, green & red peppers
£18.99
Seafood Pizza 10" Medium
Prawn, anchovies, tuna & fresh tomato
£13.99
Seafood Pizza 12" Large
Prawn, anchovies, tuna & fresh tomato
£16.99
Seafood Pizza 15" Super
Prawn, anchovies, tuna & fresh tomato
£18.99
Diamond Special Pizza 10" Medium
Pepperoni, turkey ham, onion, beef, mushroom, green & red peppers
£13.99
Diamond Special Pizza 12" Large
Pepperoni, turkey ham, onion, beef, mushroom, green & red peppers
£16.99
Diamond Special Pizza 15" Super
Pepperoni, turkey ham, onion, beef, mushroom, green & red peppers
£18.99
BBQ Feast Pizza 10" Medium
BBQ base, chicken, pepperoni, meatballs, green & red peppers & jalapeno peppers
£13.99
BBQ Feast Pizza 12" Large
BBQ base, chicken, pepperoni, meatballs, green & red peppers & jalapeno peppers
£16.99
BBQ Feast Pizza 15" Super
BBQ base, chicken, pepperoni, meatballs, green & red peppers & jalapeno peppers
£18.99
Meatball Feast Pizza 10" Medium
BBQ base, pepperoni, meatballs, chicken, beef & turkey ham
£13.99
Meatball Feast Pizza 12" Large
BBQ base, pepperoni, meatballs, chicken, beef & turkey ham
£16.99
Meatball Feast Pizza 15" Super
BBQ base, pepperoni, meatballs, chicken, beef & turkey ham
£18.99
Meat Feast Pizza 10" Medium
Meatballs, pepperoni, chicken & beef
£13.99
Meat Feast Pizza 12" Large
Meatballs, pepperoni, chicken & beef
£16.99
Meat Feast Pizza 15" Super
Meatballs, pepperoni, chicken & beef
£18.99
Create Your Own Pizza 10" Medium
Any 4 toppings of your choice
£13.99
Create Your Own Pizza 12" Large
Any 4 toppings of your choice
£16.99
Create Your Own Pizza 15" Super
Any 4 toppings of your choice
£18.99
Donner Kebab Medium
Finely minced, seasoned & cooked on an upright spit. Served in water thin slices
£7.10
Donner Kebab Large
Finely minced, seasoned & cooked on an upright spit. Served in water thin slices
£8.30
Chicken Donner Medium
Slices of marinated chicken on an upright spear
£7.10
Chicken Donner Large
Slices of marinated chicken on an upright spear
£8.30
Kofte Kebab Medium
Minced lamb, chopped onions & green peppers, finely seasoned & pressed the entire length of the skewer & grilled over charcoal
£7.10
Kofte Kebab Large
Minced lamb, chopped onions & green peppers, finely seasoned & pressed the entire length of the skewer & grilled over charcoal
£8.30
Lamb Shish Kebab Medium
Cubes of lamb marinated in olive oil & lemon juice, charcoal grilled on skewers
£7.70
Lamb Shish Kebab Large
Cubes of lamb marinated in olive oil & lemon juice, charcoal grilled on skewers
£10.40
Chicken Shish Kebab Medium
Cubes of marinated chicken in olive oil & lemon juice, charcoal grilled on the skewer
£7.10
Chicken Shish Kebab Large
Cubes of marinated chicken in olive oil & lemon juice, charcoal grilled on the skewer
£8.30
Mixed Donner Kebab Medium
Mixture of chicken & lamb donner
£7.10
Mixed Donner Kebab Large
Mixture of chicken & lamb donner
£8.30
Mixed Grill Kebab
Combination of lamb donner & choice of any 2 from lamb shish, chicken kofte, chicken donner
£11.90
Chef's Special Kebab
Skewers of lamb, chicken, kofte, slices of donner & mushrooms grilled over charcoal
£11.90
Diamond Special Kebab
1 Skewer of kofte, 1 skewer of shish, 1 skewer of chicken, slices of donner & slices of chicken donner
£14.99
Lamb Donner Meat & Chips Medium
£7.10
Lamb Donner Meat & Chips Large
£8.30
Chicken Donner Meat & Chips Medium
£7.10
Chicken Donner Meat & Chips Large
£8.30
Mixed Donner Meat & Chips Medium
£7.10
Mixed Donner Meat & Chips Large
£8.30
Veggie Kebab
Hummus, salad & pitta bread
£4.50
Lamb Donner & Chicken Shish Kebab
£9.00
Chicken Donner & Chicken Shish
£9.00
Lamb Donner & Kofte Kebab
£9.00
Chicken Donner & Kofte Kebab
£9.00
Lamb Shish & Chicken Shish
£9.50
Special Combination Kebab
Choose any 2 kebabs
£9.50
Ben & Jerry's Ice Cream (500ml) Caramel Chew Chew
£5.99
Ben & Jerry's Ice Cream (500ml) Chocolate Fudge Brownie
£5.99
Ben & Jerry's Ice Cream (500ml) Cookie Dough
£5.99
Potato Wedges
Per portion
£3.00
Garlic Mushrooms
Per portion
£3.60
Breaded Chicken Strips (6)
£4.80
Breaded Mozzarella Sticks (8)
£4.80
Chicken in a Bun With Chips
£6.70
Chicken in a Bun With Wedges
£6.70
Chicken in a Bun with Cheese Regular
£4.80
Chicken in a Bun with Cheese With Chips
£6.80
Chicken in a Bun with Cheese With Wedges
£6.80
Chicken Nuggets (8) Regular
£3.60
Chicken Nuggets (8) With Chips
£5.60
Chicken Nuggets (8) With Wedges
£5.60
Garlic Bread with Cheese (4)
£3.00
7" Cheesy Garlic Pizza Bread
£4.40
Vegetarian Calzone
Tomato & basil sauce, green peppers, mushrooms & topped with mozzarella cheese
£10.99
Chicken Feast Calzone
Tomato & basil sauce, chicken & mushroom & topped with mozzarella cheese
£10.99
Diamond Kebab Calzone
Tomato & basil sauce, pepperoni, chicken & beef & topped with mozzarella cheese
£10.99
BBQ Calzone
BBQ sauce, chicken, onions & mushrooms
£10.99
Single Deal
Any 1 x 10" medium pizza, any 1 side, 1 dip & 2 cans of soft drinks
Go large for extra £4
£16.99
2's Special 10" Medium
Any 2 pizzas
£19.99
2's Special 12" Large
Any 2 pizzas
£22.99
2's Special 15" Super
Any 2 pizzas
£24.99
3's Special 10" Medium
Any 3 pizzas
£27.99
3's Special 12" Large
Any 3 pizzas
£31.99
3's Special 15" Super
Any 3 pizzas
£34.99
Twin Deal
Any 2 medium pizzas, any 2 sides, 2 dips & bottle of drink
Go large for extra £5
£26.99
Burger Meal 1
Quarter pounder burger, chips & drink
£6.99
Burger Meal 2
Half pounder burger, chips & drink
£7.99
Diamond Meal Deal 1
Chicken fillet in a bun, chips & coleslaw served with chips OR wedges
£7.20
Diamond Meal Deal 2
Chicken fillet in a bun, chips served with chips OR wedges & drink
£7.20
Any Large Pizza Deal
Any 1 side
Any 2 dips
And bottle of drink
£20.99
Twin Deal (Large)
Any 2 large pizza
Any 2 sides
Any 2 dips
And bottle of drink
£31.99
Contact Us
Find Us
75 Regent Street, Bristol, BS158LQ
We deliver to
BS15, BS16, BS30, BS5